DL Turbo Lethal Injection Carbon Killer Vacuum Line Induction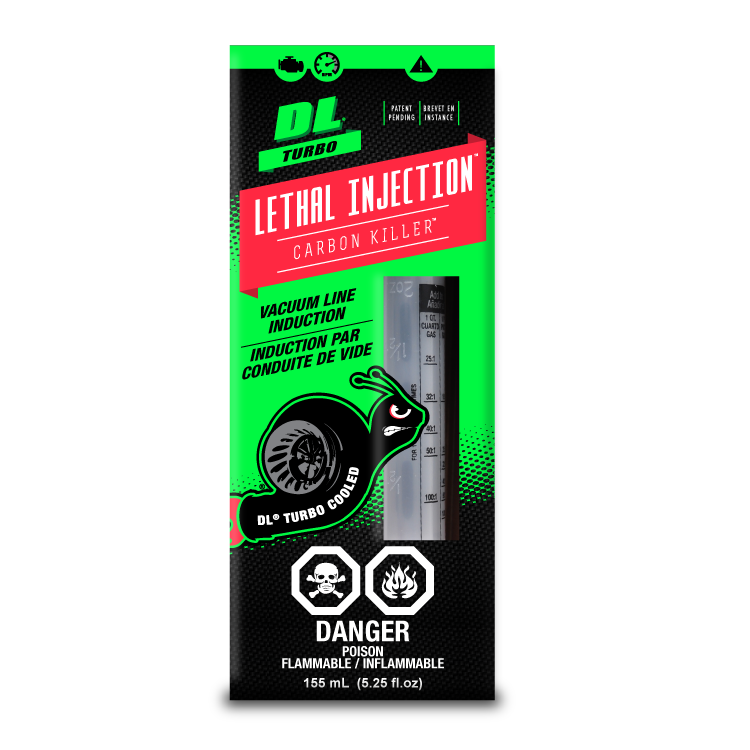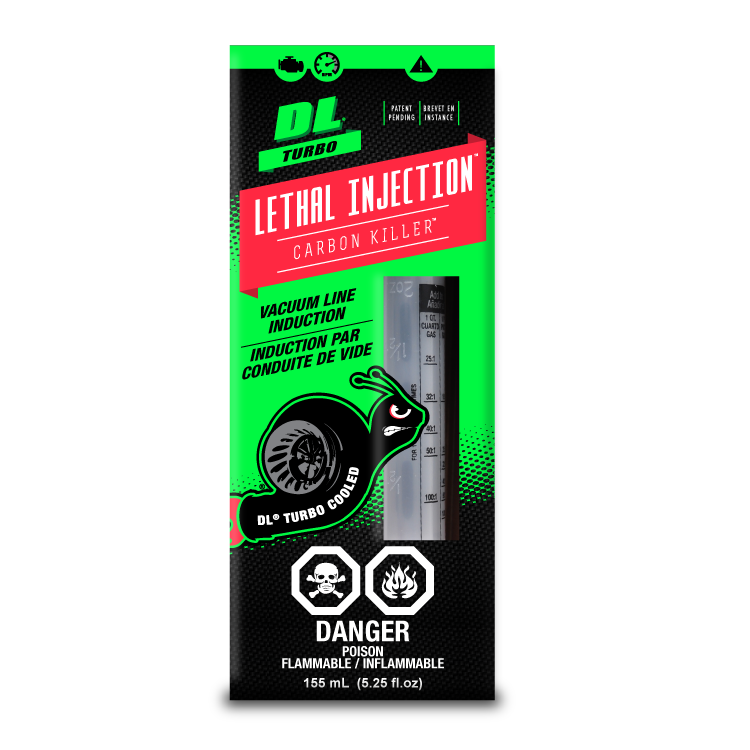 DL Turbo Lethal Injection Carbon Killer Vacuum Line Induction
What is DL® Turbo™ Lethal Injection?
DL Turbo Lethal Injection is a more safe an effective way to kill the carbon buildup in your engine.
DL Turbo Lethal Injection is 100% pure petroleum product, safe to use in all gasoline & diesel type engines. As well as both 2 & 4 cycle small engines. Safely helps quiet noisy lifters, helps remove deposits and oil residue, helps smooth rough idle. Compatible with carburetors or fuel injected engines.
DIRECTIONS:
Read thoroughly first. Before use, check with a certified technician to make sure vacuum lines feed all cylinders safely as this varies with each engine. Only for use in outdoor area. While engine is running idle and is at operating temperature: Remove contents from box, remove cap from bottle, remove foil seal. While bottle is open and in up-right position place applicator securely on top of the bottle. (Do NOT turn bottle/applicator over until it is connected to the vacuum line.) Connect the vacuum line to the tapered tip of the applicator. Once the tip of applicator and vacuum hose are secure, slowly tilt bottle and release contents. After all contents of the bottle are drawn through the vacuum line, turn off engine. Allow 5-10 minutes for engine to hot soak. Start ignition and rev engine for 1-2 minutes.
Make sure exhaust is well-ventilated as fumes will be intense.
Place snail sticker on your vehicle.
Bottle and applicator are for one use only, dispose of bottle and applicator properly.
WORKS QUICK TO:
• Cleans dirty internal parts by removing harmful gums, varnish & carbon instantly
• Cures hesitations, stalls, pings & rough idle due to carbon buildup
• Helps pass emissions test
• Frees sticking lifters & rings
• Cleans PVC valve system
• Increases RPMs vacuum & compression
• Cleans fuel injectors & carburetor jets
• Cleans carbon as you drive
• Cleans intake valves & pistons
• Cleans catalytic convertor odors
• Restores power & pickup
WHEN USED AS DIRECTED WILL NOT HARM ENGINE COMPONENTS, CATALYTIC CONVERTERS, SEALS, GASKETS OR OXYGEN SENSORS.
From the makers of Dura Lube®, the DL® Turbo™ Line is a revolutionary assortment of products made to optimize the performance of your engine.

A better way to deep clean your engine. Carbon Killer™